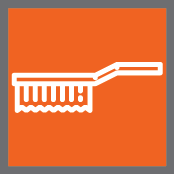 Tile and grout cleaning is just one of our areas of expertise. With 20 years of service, we have the proper chemicals to successfully remove all dirt and oils, for a complete tile restoration. When tile cleaning, the type of tile determines which chemical to use. If the floor is a natural stone, we will use a PH Balanced cleaner. This chemical will not hurt the stone or factory finish. Also, the type and color of the grout determines the proper process. When cleaning grout, some types can endure an acid wash, while others should never have acid applied to them. We stand by our motto…"We do one thing…and we do it right".
Contact us today to receive expert service in the following areas:
Grout Care Of Tulsa – Tulsa's original tile and grout maintenance company.