Ceramic & Porcelain Tile Repair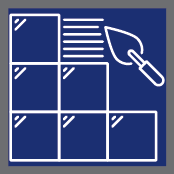 Floor tile repair is just one of the tile care services we offer. We repair ceramic tile, porcelain tile, including cracked tile. We have the necessary tools that allow us to cut out the grout around each tile that needs to be replaced, so that each tile can be removed separately. Once we replace the tile, matching the existing grout color can be easily done. When repairing cracked tile, sometimes we are able to simply repair the crack/chip, without replacing the whole tile itself. Our goal is for the repair to not just look like a patch job. Call us first, before someone else tells you that you need to replace the entire floor.
Contact us today to receive expert service in the following areas:
Grout Care Of Tulsa – Tulsa's original tile and grout maintenance company.